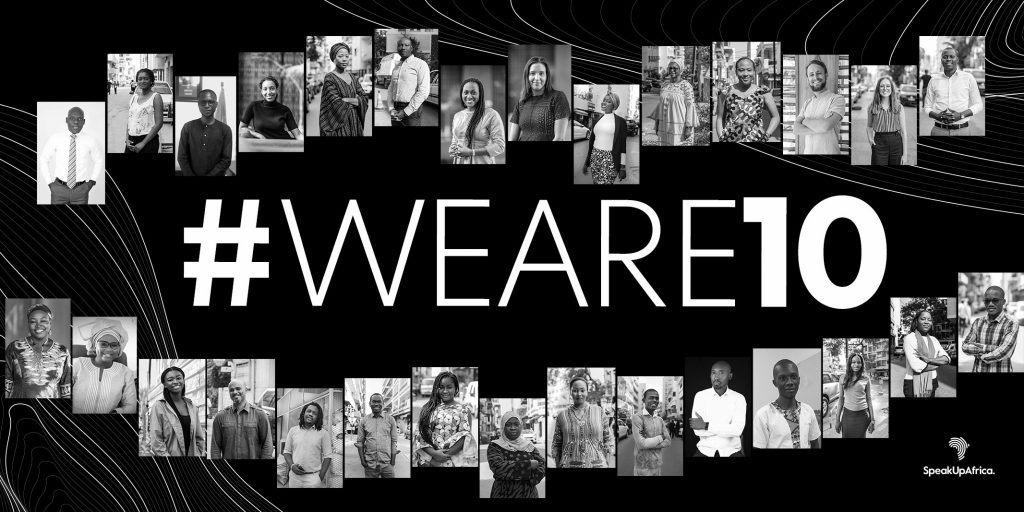 Ten years ago today, Speak Up Africa was founded—driven by a vision to develop solutions to the most challenging problems that African people face. Our idea then, as now, was to catalyze dialogues, facilitate policy change, and create awareness for sustainable development in Africa through strategic advocacy and communication. With that in mind, we set out to work with African leaders to find and implement effective sustainable solutions to issues such as malaria, immunization, Neglected Tropical Diseases (NTDs), sanitation, and public health.
From Dakar and Ouagadougou to Niamey and Conakry, we have worked with Civil Society Organizations (CSOs), artists, footballers, media influencers, and journalists, to influence public health policies and drive national and regional actions toward promoting global health, research and development (R&D), and encouraging scientific innovations as part of public discourse in Africa.
In the last 10 years, thanks to our esteemed partners, we have worked continuously to raise awareness, designed and implemented campaigns that have propelled African governments to take decisive actions and uphold their public commitments for sustainable development. We have been able to foster an environment of engagement and spark change among Africans' minds, changing their perspectives about their participation in decision-making and on issues that affect their communities. We also have been able to shine the light on endemic diseases such as malaria and NTDs, launching the Zero Malaria Starts with Me campaign and the No to NTDs movement, to mobilize African countries to commit to ending these debilitating diseases.
We are all very proud at Speak Up Africa of the immense growth at our organization. Since our inception in 2011, we have been able to grow our footprint. And our advocacy efforts for reformed public health and sustainable development across Africa have shone through our various initiatives and campaigns. Our core mission is to ensure health and well-being for the African populations through the achievement of the UN Sustainable Development Goals (SDGs) 1 to 6, "transforming African societies and making sure every man, woman, and child is empowered to live a long and healthy life."
As we mark our 10th anniversary today, here's a highlight of our 10 years impact:
Our 'Zero Malaria Starts with Me' campaign has been expanded to over 20 countries in Africa. Originally started in Dakar, Senegal in 2014, the Zero Malaria Starts with Me movement has turned into a continent-wide campaign. It has inspired 55 African Heads of State and Government to adopt it, and about 20 countries have launched the campaign on a national scale, igniting grassroots movements that seek to engage individuals, families, communities, religious leaders, business leaders, political leaders and other members of society to make a commitment to ending malaria in Africa.
In July 2020, Speak Up Africa in partnership with the Ecobank Group, launched the first-of-its-kind 'Zero Malaria Business Leadership Initiative' to engage the private sector. The programme aimed to drive private-sector engagement with the fight against malaria in Africa by promoting the mobilization of domestic resources and engaging businesses and business leaders. Initially launched in Benin, Burkina Faso and Senegal, to date the initiative has engaged over 50 private sector organizations in 5 countries, with further launches planned in Cameroon, Ghana and Uganda.
Worked with 12 Civil Society Organizations (CSOs) in Guinea, Niger, Senegal, Burkina Faso, and Benin to develop their capacities in the skills needed to effectively engage with policymakers and advocate for the elimination of malaria and NTDs in Africa. It was also in this context that we created the coalition of Civil Society says No to NTD network in July 2019.
Launched the No to NTDs network, mobilizing 600 people across Guinea, Niger, and Senegal, including parliamentarians, journalists, community leaders, and mayors. Some highlights of the No to NTDs Network include: commitment of local elected officials to integrate NTDs in their Operational Plans of Territorial Communities and parliamentarians in Guinea to ensure the improvement of National NTD Control Programmes budget through the Ministry of Health, and the establishment of a coalition of CSOs for the fight against NTDs in Guinea and Niger.
We engaged with over 100 influencers in Africa and beyond to raise awareness about public health issues including diseases such as malaria and NTDs, and to educate the people at risk about how they can prevent these debilitating diseases. And we also supported dozens of supported journalists, through grants and training programmes, across the continent in developing expertise and knowledge to report on sustainable development issues.
In 2020, Speak Up Africa continued to build the capacity of journalists for reporting on NTDs. We launched the "Lines of Impact" project to increase the quantity and quality of information about NTDs. Seven African journalists from Benin, Burkina Faso, Ghana, Guinea, Nigeria, Senegal and Togo were awarded grants to produce stories cutting cross a range of themes on the impact of NTDs in their communities.
Our strategic advocacy has earned us a reputation as champions in campaigning for public health and sustainable development across Africa, and helped to grow our partners – followers, funders, and collaborators. Our social media reach continues to grow, and this is evidenced by our increasing number of Twitter and Facebook followers, who we are thankful for and consider at the heart of the work that we do.
None of our successes today would be possible without 10 years of hard work. We are deeply grateful and proud of our team, a vibrant group composed of about 30 communication and advocacy experts across Africa connected to critical global policy movers and decision makers, who continue to grow and deliver work to excellent standards. We do not have the slightest of doubts as to our ability to meaningfully contribute to the development of Africa by all working together with civil society, public, private sector and communities.
We remain firmly committed to advocating for improved health for all African populations and driving sustainable development in the continent.
As the American anthropologist, Margaret Mead, once said:
"Never doubt that a small group of thoughtful, committed people can change the world."

Margaret Mead, anthropologist
It is indeed the only thing that ever has.